Awesome (1009)
Game-Changer: Here Is An Awesome Recipe For Yellow Cake Batter Cookies
Ever since I made cake batter ice cream, I'm on a kick for everything yellow cake mix flavored, which is what inspired these soft, doughy cookies.

Here is the recipe from Anna Monette Roberts, POPSUGAR Food Assistant Editor:
Yellow Cake Batter Cookies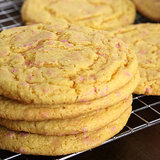 INGREDIENTS
1/2 cup unsalted butter, softened
4 egg yolks
1 egg
1 (15 1/4-ounce) box yellow cake mix, like Betty Crocker
1/4 cup sprinkles
DIRECTIONS
Preheat oven to 325ºF. Line 2 cookie sheets with Silpats or pieces of parchment paper.
In a large bowl using a hand or stand mixer, beat butter on medium-high until soft and fluffy, about 2 minutes. Add egg yolks and egg, and beat until incorporated, about 2 minutes. Add cake mix in three increments over low speed. Fold in sprinkles.
Use an ice cream scooper to drop rounded spoonfuls of dough onto cookie sheets, leaving sufficient space between each cookie.
Bake for 15 to 17 minutes, turning sheets halfway through cook time, until edges start to turn golden brown. Remove from oven, and let sit on a hot baking sheet for 2 more minutes. Transfer cookies to wire racks to cool completely.