Awesome (1009)
With Just A Few Tricks, This Awesome Photographer Can Make Anyone Look Like An All-Star Athlete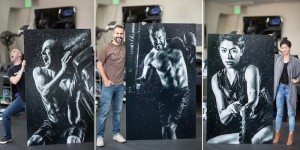 When it comes to photography, the possibilities are endless. As long as you have the right tools and the right set of skills to innovate on the go, you can create just about anything you desire.
Take Benjamin Von Wong, for example. The Montreal-based photographer was commissioned by photo-sharing platform SmugMug to capture portraits of its employees for its gym. The results? Well, they're just proof that with the right photography skills, you can make anyone look like a pro athlete with the click of a button.
In each portrait, Von Wong is able to make SmugMug's directors, managers and executives look like they've been training for CrossFit competitions their whole lives!
Believe it or not, it's pretty easy to look like a pro athlete. All you need is $20,000 camera equipment and a rain machine.
---
Montreal-based photographer Benjamin Von Wong was commissioned by SmugMug to capture creative, sporty portraits of the company's employees. Here he is with his rain machine.
---
As you can see here, SmugMug's employees were happy to participate!
---
At first sight of this portrait, you wouldn't know this man is a 61-year-old with 12 grandchildren. You'd probably think he was a Tour de France participant.
---
Stephanie is not a UFC fighter. She's actually a 24-year-old front office executive!
---
No, this isn't Derek Jeter — it's a SmugMug employee who clearly likes traveling and puppies.
---
Meet a 62-year-old grandma whose portrait will probably inspire you to hit the gym.
---
Shandrew isn't training for the fight of his life. He's a 37-year-old director of operations at SmugMug.
---
Go behind the scenes of the shoot for a closer look at Wong's process:
Source: Robert Anthony via Elite Daily
Alissa Fairchild > Twitter