Awesome (1009)
The Girl Scouts Are Introducing 3 New Flavors Of Girl Scout Cookies This Year And We Are SO Excited!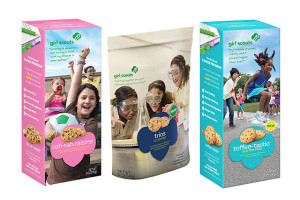 We love only one type of solicitor: Girl Scouts. They come bearing clipboards and guilt-free cookies but once a year. Hey, it's for a good cause — we can buy a case. And, this year the savvy, young businesswomen are breaking into a whole new market. They're introducing three new cookies — two of which are gluten-free. Yes, that's right, the girls are keeping up with the times.
The two gluten-free newcomers are Toffee-tastic (buttery cookies with toffee bits) and Trios (peanut butter, chocolate chips, and whole-grain oats). The third is Rah-Rah Raisin (an oatmeal raisin with Greek yogurt-flavored chunks). And, while we will never disown Thin Mints and Caramel deLites/Samoas, there's always more room in the freezer. We're waiting for that doorbell ring.
You can check out all three of the new flavors in the images below.
Toffee-tastic
Trios
Rah-Rah Raisin
Source: Chloe Daley via Refinery29
Alissa Fairchild > Twitter