Awesome (1009)
The Last Living Rescue Dog Who Worked At Ground Zero And Her Handler Were Honored In The Sweetest Way Possible
Meet Bretagne, a search and rescue golden retriever, and her handler, Denise Corliss. Their first deployment together was at Ground Zero, just after the September 11th attacks. There were over 100 search and rescue dogs who were deployed to Ground Zero, and Bretagne is the last known living participant.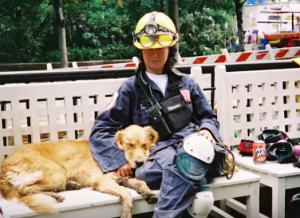 To honor Bretagne's 16th birthday, BarkPost teamed up with 1 Hotels to give Bretagne an amazing day. Check out the video below to see how Bretagne and Denise were honored!
Thank you so much to Bretagne, Denise, and all of the other incredible men, women, and animals who worked tirelessly to save as many people as possible following the 9/11 attacks. We are forever grateful and will never forget your efforts!
Video Source: BarkBox via YouTube
Article by: Alissa Fairchild > Twitter