Awesome (1009)
Professor Gives Epic Response To Student Who Asks To Miss Class For A Baseball Game
University of Illinois at Urbana-Champaign student Ben Larson has done the impossible: through one simple email, he convinced his professor to change the date of a midterm so that he could attend the Chicago Cubs vs. Pittsburgh Pirates baseball game.
Larson posted the email exchange on Twitter:
@Cubs#onlyforthecubbies#OctoberBaseball#myprofessorgetsitpic.twitter.com/efCY6KznaO

— Ben Larson (@ben_larson6) October 3, 2015
Here is Ben's email to his professor: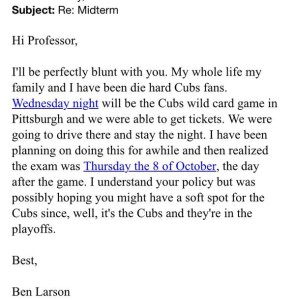 And here is Professor Dave's epic response!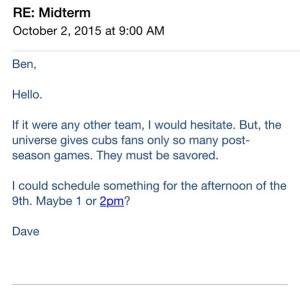 Professor Dave, you're the man.
Photo Source: Ben Larson via Twitter
Article by: Alissa Fairchild > Twitter